MicroNet Template
The Breakfast Club - December 9, 2021
Please join us for this event which features a speaking program, salutes to area businesses and a networking breakfast. More than 300 area professionals attend.

Salutes include:
Baystate Savings Bank, 125 Years
Caitlyn Correia, President BluHive Exhibits
Connie Askin, CEO Big Brothers Big Sisters of Central Mass & Metrowest
Rollstone Bank & Trust, 175th Anniversary
Karl Storz, 75th Anniversary
Rachel Lopez, CEO RMI Solutions

Chief Greeter: Che Anderson, Asst. Vice Chancellor for City & Community Relations,
UMass Chan Medical School

Keynote Speaker: Michael Bobbitt, Executive Director of the Massachusetts Cultural Council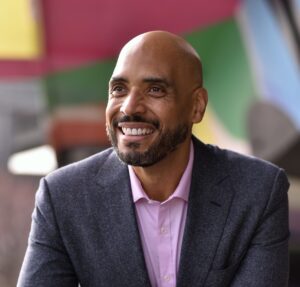 Michael J. Bobbitt has dedicated his professional career to arts leadership. He is a director, choreographer, and playwright. On February 1, 2021 he joined Mass Cultural Council as Executive Director, becoming the highest ranking cultural official in Massachusetts.

Bobbitt gained extensive experience in non-profit arts management by training at Harvard Business School's Strategic Perspectives in Nonprofit Management, The National Arts Strategies Chief Executive Program, and Cornell University's Diversity and Inclusion Certification Program. He has served as an Associate Professor of Theatre at Boston Conservatory at Berklee and volunteered on numerous non-profit boards, including Non-Profit Village, Maryland Citizens for the Arts, Leadership Montgomery, Weissberg Foundation, Watertown Public Art Commission, and ArtsBoston.

As of October 28, all Chamber in person events will require attendees to be fully vaccinated. Only those with a written religious exemption by church leadership or written medical exemption by doctor explaining previous condition which prevents them from getting the vaccine, will be allowed to attend with a negative COVID test within 48 hours of the event.
FACE COVERINGS ARE REQUIRED FOR ALL, REGARDLESS OF VACCINE STATUS.
The Breakfast Club - December 9, 2021
Date and Time
Thursday Dec 9, 2021
7:00 AM - 9:00 AM EST
Location
Mechanics Hall
321 Main Street
Worcester, MA 01608
Fees/Admission
$40 Member
$60 Non Member
$375 Table of 10
Cancellation Policy: NO REFUNDS or CREDITS if cancelled 7 Days Prior to Event Date